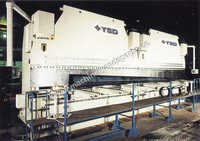 CNC Tandem Press Brake
Product Description
We have the industrial insight and experience to manufacture, supply and export
CNC Tandem Press Brake
. These products are known for their high performance and defect free nature. With a sturdy and strong construction, these products have gained a high demand among the clients. Our offered products can be installed in any CNC machine to regulate their speed.
CNC Tandem Press Brake
is delivered to the clients owing to our expert supply agents.
Other details:

YSD CNC Tandem Press Brake
For Lighting Pole/High Mast/Electricity Pole/Steel Tower Industry Almost 85% Customers Use YSD Machines.
YSD Could Produce The Full Production Line On Lighting Pole For You. The Equipments Including Cut To Length Production Line (Coil Car, Decoiler/Uncoiling Machine, Feeding Device, Pre-Straightening Machine, Loop Bridge, Hydraulic Centering Platform, Straightening Machine/Leveller, Edge Trimming/Slitter, Clamping Device For Trimming Edge, Scrap Winding Machine, Hydraulic Guillotine Shear, Stacking Platform. )Big Shearing Machine Or Bevel Machine (Trapezoidal Cutting) Or Plasma Cutting, Tandem Press Brake, Auto-Seaming Submerged Arc Welding Machine For Pole, Pole Straightening Press.
Auxiliary Required Equipment On The Pole Production Line Are Semi-Automatic Co2 Protection Welding, Radial Drilling Machine, Powder Spraying Equipment, Recovery System, Conveying Chain Etc.
Many Famous Manufacturers For Oil Pipe/Gas Pipe/Water Pipe/Construction Pipe Choose YSD Following Machines To Produce JCO Pipe.
Technical Specifications:

Specifications

Unit

320/60

400/60

500/60

640/60

800/60

800/70

800/80

1200/70

1200/75

1200/80

1600/80

2000/80

2400/85

Pressing force

KN

2x3200

2x4000

2x5000

2x6400

2x8000

2x8000

2x8000

2x12000

2x12000

2x12000

2x16000

2x20000

2x24000

Working length

mm

2x6000

2x6000

2x6000

2x6000

2x6000

2x7000

2x8000

2x7000

2x7500

2x8000

2x8000

2x8000

2x8500

Stroke of ram

mm

300

300

300

320

400

400

400

400

400

400

400

400

400

Distance between table and ram

mm

950

950

1100

1200

1200

1200

1200

1250

1250

1250

1250

1250

1250

Depth of throat

mm

710

710

900

1100

1100

1100

1100

1600

1600

1600

1600

1600

1600

Approaching speed

mm/s

100

100

75

80

100

100

100

65

65

65

60

60

60

Working speed

mm/s

10

8

8

8

8

8

8

7

7

7

7

6

5

Return speed

mm/s

100

80

75

80

70

70

70

65

65

65

70

60

50

Distance between two cylinder center

mm

5130

5140

5150

4000

4000

5030

5030

4500

5000

5030

5210

5210

6000

Max. Opening of V-die

mm

V-die

240

240

280

280

280

280

320

320

320

320

320

320

Table width

mm

320

500

500

500

500

500

500

600

600

600

600

600

600

Motor power

Kw

2x37

2x37

2x45

2x55

4x37

4x37

4x37

4x45

4x45

4x45

4x55

4x55

4x75

Max. Bending Thickness X width

O235-A

mmxdm










25x100

26x102

25x123

23x146

30x126

30x132

29x148

32x149

35x150

35x170

mmxdm

12x20

17x120

19x120

20x120

23x120

22x140

20x160

28x140

27x150

26x160

29x160

32x160

35x170

Subtense distance (one seam, without turn around the pole)

Octagon

Octagon

360

360

455

560

560

560

560

815

815

815

815

815

815

Dodecagon

mm

355

355

450

550

550

550

550

805

805

805

805

805

805

Subtense distance (two seam, turn around the pole)

Octagon

mm

990

990

1260

1540

1540

1540

1540

2250

2250

2250

2250

2250

2250

Dodecagon

mm

1105

1105

1405

1720

1720

1720

1720

2510

2510

2510

2510

2510

2510