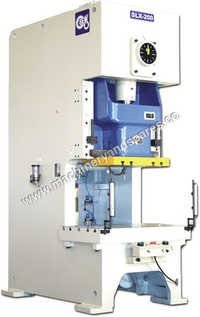 Cross Shaft Power Press
Product Description
Owing to the huge demands of our respected clients, we are able to manufacture, supply and export
Cross Shaft Power Press
. These products are used in different industrial pressing applications. Known for their effective functioning, these products have earned a high demand among the clients. Owing to their better workability, these products provide accurate performance.
Cross Shaft Power Press
is packed in damage proof packaging to ensure their safe and secure delivery.
Other details:

SEW Link Motion, Cross Shaft Power Press - SLX Series
High Approach/Return & Low Forming Spped
Highly Rigid Frame With Minimum Deflection
Extra Long 6 Point Gibs
Speed Slows Down Near Bottom Dead Center
STANDARD ACCESSORIES

ISI Marked Electric Motor with Electrical Control Panel
Motorized Grease Pump
Hydraulic Overload Safety
8 Way Imported Rotary Cam Limit Switch
Dual Solenoid Valve
Die Height Indicator
Motorized Slide Adjustment (SNX 63 & above)
PLC Control System
Anti Repeat Safety Device
Pneumatic Balancers
Production Counter
2 nos Mis-feed Socket
OPTIONAL ACCESSORIES

Pneumatic Die Cushion
Photoelectric Safety Device
Variable Speed Device (Inverter)
Quick Die Change Device (Q.D.C.S)
Rubber Mount
Technical Specifications

Model




SLX-110

SLX-160

SLX-200

SLX-250

Capacity

Tf

110

160

200

250

Length of stroke (D)

Mm

160

200

220

220

Strokes per SPM Minute

Fixed Speed

SPM

50

40

35

30

Variable speed

35-60

30-50

25-45

25-40

Tonnage rating point (BDC)

Mm

5

6

6

6

Die Height (DH)

Mm

360

400

450

450

Adjustment of Slide (G)

Mm

90

100

110

120

Area of Slide (PxG)

mm

650x520

720x580

860x650

960x720

Shank Bore

Mm

63

63

80

80

Area of Bolster (EXF)

mm

1150x680

1250x760

1400x840

1450x900

Thickness of Bolster (T)

mm

140

160

180

180

Height of Bolster (Z)

mm

900

900

1000

1000

Frame Inside (R)

Mm

670

760

900

940

Main Motor

Fixed Speed

HPXP

10x4

15x4

20x4

25x4

Variable Speed

15x4

20x4

25x4

30x4

Slide Adjustment Motor

(HPx P)

0.5x4

1x4

1.5x4

1.5x4

Foot Size (AXB)

mm

1160x1680

1300x1985

1480x2140

1550x2390

Position of Anchor Bolts (MxN)

Mm

1060x1380

1180x1655

1360x1755

1430x2000

Floor space required (WxLxH)

Mm

1325x2020x2985

1445x2325x3250

1625x2455x3715

1700x2790x3850

Die Cushion (optional)
















Capacity

Tf

8

10

14

14

Length of stroke

Mm

90

100

110

110

Area of Pad

Mm

480x300

540x340

640x440

640x440