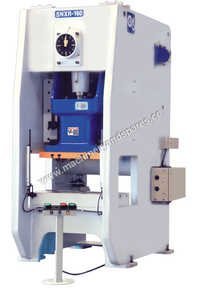 Cross Shaft Power Press
Product Description
With our expert precision, we are engaged in manufacturing, supplying and exporting Cross Shaft Power Press. This product is used in various fabrication industries for efficient production. Our offered product is manufactured by our experts using latest equipment and modern technology. Our offered product is extensively used in blanking, piercing, bending, forming and appropriate to be interlinked with ROT line or transfer unit. This Cross Shaft Power Press is widely acclaimed amongst our customers for being:

Highly efficient
Sturdy in construction
Corrosion resistance
Longer service life
SEW Straight Side, Cross Shaft, Single Point, Ring Frame - SNXR Series
Straight Side Frame Designed Virtually Eliminates Angular Deflection, Providing Increased Precision for Progressive Die Applications and Reducing Maintenance Costs on Tooling.
'SNXR' Series is Applicable to Light, Thin Material, for Single, and Progressive Die Application in Blanking, Piercing, Bending, Forming and can be Interlink with ROT Line or Transfer Unit.
STANDARD ACCESSORIES

Electrical, Control Panel & Production Counter , Hydraulic Overload Safety
SMC/FESTO make FRL & Pneumatic Fittings
Motorised Grease Lubrication (Japan make)
Slide Knockout Device, 6 Way Cam limit switches (Imported)
Anti Repeat Safety Device , PLC Control system
Misfeed Detector Socket, ROSS / Toyooki Japan make Dual solenoid valve
OPTIONAL ACCESSORIES

Variable stroke
Pneumatic die cushion
Photo safety guard
Variable speed
Anti vibration mounts
Technical Details:
MODEL

SNXR-80
SNXR-110
SNXR-180
SNXR-200
SNXR-250
H
S
H
S
H
S
H
S
H
S
CAPACITY TONNE
80
110
180
200
250
FIX STROKE MM
60
150
70
180
80
200
90
220
100
250
ADJUSTABLE STROKE MM
8~50
8~100
8~70
8~125
0
8~160
0
0
0
20~160
STROKES PER MIN.
FIXED
100
60
80
50
80
40
65
35
55
30
VARIABLE
60~130
40~70
60~120
35~60
50~100
30~50
40~60
25~45
30~70
25~40
RATING POINT MM
3
4.5
3
5
3.5
6
3.5
6
4
6
DIE HEIGHT MM
330
360
400
450
450
SLIDE ADJUSTMENT MM
80
90
100
110
120
SLIDE AREA {MM}
FIXED
560 x 460
650 x 520
720 x 580
860 x 650
950 x 720
VARIABLE
(700 x 500)
(800 x 650)
(900 x 700)
(1000 x 700)
(1100 x 800)
SHANK BORE MM
50.8
63
65
80
80
BOLSTER AREA MM
900 x 600
1000 x 680
1150 x 760
1250 x 840
1350 x 900
BOLSTER THICKNESS MM
140
140
160
180
180
FLOOR TO TOP OF BOLSTER MM
900
900
900
1000
1000
MAIN MOTOR STORKE (HP x P)
FIXED
10 x 4
10 x 4
15 x 4
20 x 4
25 x 4
VARIABLE
15 x 4
10 x 4
20 x 4
25 x 4
30 x 4
SLIDE ADJ.MOTOR HP
0.4
0.4
0.75
1.5
1.5
DIE CUSHION (OPTIONAL) :-
CAPACITY TONNE
6
8
10
14
14
STROKE MM
70
90
100
110
110
PAD AREA MM
380 x 260
480 x 300
540 x 340
540 x 440
650 x 440