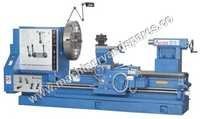 Extra Heavy Duty Lathe Machines
Product Description
Having 61 years of experience in current domain, we have marked a distinguished position in this domain by manufacturing, exporting and supplying a broad array of Extra Heavy Duty Lathe Machines. Manufactured by utilizing excellent quality components and innovative technology by our dexterous professionals, these machines are tested on several parameters before their final delivery at clients' end. These machines are primarily used for various industrial applications for cutting wood, acrylic and metallic objects. Apart from this, the Extra Heavy Duty Lathe Machines provided by us are made available in various models and technical specifications at reasonable prices.

Features:

User friendly interface
High efficiency
Robust construction
Longer service life
"PANTHER" 4310 / 5610 / 6610 SERIES ALL GEARED HEAVY DUTY LATHE MACHINE WITH FLAME HARDENED GUIDEWAYS & ONE PIECE PLANNER TYPE BED
The 4310 / 5610 and 6610 series
Heavy Duty Lathes are designed to provide optimum performance with high cutting power with versitality and used in a wide range of industries, general purpose machine-shop, mining and power industry, paper plants,ship yards etc. These lathes are built and tested for high accuracy standards.
Single piece bed casting, planner type, for maximum rigidity
Hardened and ground bed ways
Large heavy duty head stock
Removable gap bed
STANDARD ACCESSORIES

Electricals
Control Panel
2 Mt Centers With Center Bush Inch & Mm Gears
Specifications:

Use of lathe bed casting for assuring of higher rigidity.
Spindle Headstock is properly fitted and functions in Taper Roller Bearing at the Rear Side as well as in Ball Bearing at the Front Side.
Headstock Gears are fabricated from high-strength Alloy Steel
Oil pump is integrated in order to lubricate Headstock Gear & Shaft
Use of Spindle Nose of Bayonet Type
Norton Gearbox offers a wide variety of inch and metric threads.
OPTIONAL ACCESSORIES

Face Plate750 mm Φ (4310)900 mm Φ (5610 / 6610)
Steady Rest
Follow Rest
Rapid Traverse of Main Slide
Chuck Flange600 X 4 Jaw Dog Chuck750 x 4 Jaw Dog Chuck900 mm x 4 Jaw Dog Chuck
Machine Lamp
Electric Coolant Pump with Fittings
Taper Turning Attachment 500 mm Center Height In Lieu of 430 mm600 mm Center Height
In Lieu of 560 mm
Technical Details:
MODEL
4310 / 1
4310 / 2
4310 / 3
4310 / 4
4310 / 5
Length of bed(MM)
3750
4750
5750
6750
7750
Admit between centers(MM)
2000
3000
4000
5000
6000
Net Weight(KG)
6250
7300
9500
11200
12800
Motor (HP)
15
15
15
20
20
Additional Specifications for All Above Models










Model
4310 Series
Swing over bed(MM)
840
Height for Centres(MM)
430/500
Width of bed(MM)
555
Swing over Cross Slide(MM)
510
Swing in gap(MM)
1250
Length of Gap in Front Plate(MM)
330
No. Of Spindle Speed
8
Spindle Speed Range(RPM)
20-275
Taper In Spindle Sleeve (MT)
5
Spindle bore (MM)
104
Spindle nose
Bayonet Size 11
No. of British Threads
28
Range Of British Threads
1.5 To 22 TPI
No. of Metric Threads
22
Range Of Metric Threads / Pitch(MM)
0.75 To 16
No. of Feeds
28
Range of Longitudinal Feeds(MM/Rev.)
0.20 To 3.0
Range Of Transverse Feeds(MM/Rev.)
0.033 To 0.50
Lead Screw Diameter / Pitch(MM)
50.8 / 2 TPI
Tail Stock Spindle Diameter(MM)
95
Taper In Tail Stock Quill(MT)
5
Cross Slide Travel(MM)
430
Compound Slide Travel(MM)
230
Tail Stock Sleeve Travel(MM)
220
Tool Post Square(MM)
200 X 200
Tool Shank Size(MM)
38 X 38