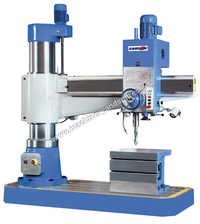 Geared Radial Drilling Machine
Product Description
We are one of the most reckoned organizations engaged in manufacturing, supplying and exporting premium Geared Radial Drilling Machine. This equipment is extensively used in various industries for drilling. Our offered product is applicable to be used in construction sites and variegated manufacturing units. While making this machine we make use of quality raw components which are obtained from the trusted vendors of the market. This product is available for our customers in various sizes and dimensions to suit the variegated needs of our customers.
Our Geared Radial Drilling Machine is widely preferred by our variegated customers for being:

Highly efficient
Robust construction
Smooth functioning
Fast operations
SAMSON Heavy Duty All Geared Radial Drilling Machine - RD Series
"Samson" Heavy Duty All Geared Radial Drilling Machines.
High Quality Fine Grain Cast-Iron And Heavy-Duty Ribbing Ensures Low Vibration. Oil Bath Lubricated Gear Box with Hardened Precision Ground Cr-Ni Steel Gears.
Advantages:

Unmatched quality
Unmatched performance
Durable
Tensile strength
Resistivity to adverse conditions
Applications:

Automobile industry
Printing industry
Engineering industry
STANDARD ACCESSORIES

Heavy Duty Box Table
Electric Coolant Pump with Fittings
Quartz Machine Lamp
Specifications:

Proportioned Column For Rigidity Of Machine.
Rough & Smooth Feed Available By Manual And Power Feed.
Provision Of Window For Change Of Gear On Top Cover.
Quill Spacer Made Of Mild Steel.
Main Spindle Made Of En Steel With 6 Slots. 8 Speed In Either Direction.
Grounded Parts Finished On Important Grinding Machine.
Major Parts Casting Are Of Standard Grade.
Head Stock Is Bored On Imported Boring Machine.
Spindle Sleeve Is Properly Guided In Honed Drill Bore On 6 Ball & Roller Bearings For Smooth & Accurate Running.
Technical Details:
Model

N-305

N-380

LENGTH OF BED

6''6''

8''6''

10''6''

8''

10''

12''

CENTRE HEIGHT

12''

12"

12''

15''

15''

15''

BED WIDTH

15"

15"

15''

18"

18"

18"

SPINDLE BORE

2.3/8"

2.3/8"

2.3/8"

3.1/8''

3.1/8''

3.1/8''

ADMIT BETWEEN CENTRES

34''

58"

82"

44''

66"

90''

DEPTH OF GAP

6"

6''

6''

7.1/2"

7.1/2"

7.1/2''

SWING OVER SADDLE

13''

13"

13''

20''

20''

20''

SWING OVER GAP

35"

35"

35"

44''

44''

44''

DIA OF FACE PLATE

16''

16"

16"

27''

27''

27''

MOTOR HP

2

3

3

3

3

5
Model

N-460

N-510

LENGTH OF BED

8''

10''

12''

16''

20''

8''

10''

12''

16''

20''

CENTRE HEIGHT

18"

18''

18"

18''

18"

20"

20"

20"

20''

20"

BED WIDTH

20"

20''

20"

20''

20"

20"

20"

20"

20"

20"

SPINDLE BORE

4.1/8"

4.1/8''

4.1/8''

4.1/8''

4.1/8"

4.1/8"

4.1/8''

4.1/8''

4.1/8''

4.1/8"

ADMIT BETWEEN CENTRES

40"

64''

88''

136"

184''

40"

64"

88"

136''

184''

DEPTH OF GAP

9.1/2"

9.1/2''

9.1/2"

9.1/2''

9.1/2"

9.1/2"

9.1/2''

9.1/2"

9.1/2"

9.1/2"

SWING OVER SADDLE

25"

25'

25"

25'

25"

29"

29"

29"

29"

29'

SWING OVER GAP

55"

55"

55'

55'

55"

59"

59''

59"

59"

59"

DIA OF FACE PLATE

36"

36"

36"

36"

36"

36"

36"

36"

36"

36"

MOTOR HP

5

5

5

7.5

10

5

5

5

7.5

10