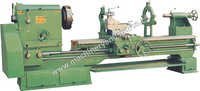 Heavy Duty Lathe Machines
Product Description
With the aid of our diligent professionals, we are able to manufacture, supply and export premium Heavy Duty Lathe Machines. This product is extensively used for heavy duty solutions in surfacing, screw cutting operations and sliding. Our offered product is manufactured under the supervision of trained professionals using latest technology and modern equipments. This product is also quality tested by our quality controllers based on several set parameters. Our Heavy Duty Lathe Machines are widely acclaimed amongst our clients for its:

Features:

Robust construction
Flawless finish
Corrosion resistance
High performance
Description
Omega Nagi All Geared Heavy Duty Lathe Machine Is Renowned For Its Quality And Performance. The Main Spindle Runs On Precision Taper Roller Bearing. The Gears Are In Head Stock Made From En-353 And Hardened Ground, & Cut On Imported Machine. The Bed Guideways, Are Also Flame Hardened. The Bed And Slide Etc. Has Been Graded With Brinnel Hardness Of 200-Bhn (+-10%) And Is Equivalent To Is 210 Grade 20. All The Gears Of Full_Norton Gear Box And Made En-9 Steel. These Boxes Are Very Smooth & Easy To Operate.
Specification:
Nagi : Heavy Lathes Are Renowned Throughout The Country To Give Minimum Maintenance Cost. Lathe Are Famous For Precision Jobs, Accuracy And Trouble Free Performance.
Bed : It Is A Gap Bed Lathe Heaving Vee On Surface While The One Is Flat, Both The Surface Are Hand Scrapped To Close Tolerance, The Casting Of The Bed And Slide Etc. Has Been Graded With Brinnel Hardness Is 200 Bhn (+-10%).
Head Stock : The Spindle Is Made From Special Steel And Is Precisely Ground On Cylindrial Grinder, An Oil Reservoir Is Provided In Which Hop Cut Helical Gears Of The Steel Stock Remain Dipped. Double / Single System Is Provided For Easy Operation. Saddle The 'V' Guide Ways Running On The Bed And The Silde Are More Accurately Hand Scapped And Accurately.
Tool Post: Is Made Out Of One Piece Steel Block And Can Hold Four Different Tools At A Time.
Apron: The Apron Give Movements To Be Saddle For Screw Cutting. All Gears Are Of Steel.
Tail Stock: The Tail Stock Is Designed To Give Maximum Strength. Ot Has Long Bearing With In Barrel And Ensure True Alignment.
Gear Box: All The Gears Of Semi-Norton Gear Box Are Made From En-9 Steel. These Gear Are Cut On Imported Gear Shaper And The Duly Hardened. These Gear Boxes Are Very Easy To Operate.
Included Accs : Steady Rest, Follow Rest, Face Plate, Motor Pully, Dead Centre, Sleeve, Gear Set. Etc.
Extra Accs : Hardened Bed, Dog Chuck, Electrial, Machine Lamp, Coolant Pump & Packing
STANDARD ACCESSORIES

Face Plate
Steady Rest
Follow Rest
Inch & Mm Gears
Chuck Flange
2mt Centers & Centre Bush
OPTIONAL ACCESSORIES

Flame Hardened Guideways
Electricals
4 Jaw Dog Chuck
3 Jaw True Chuck
Machine Lamp
Chuck Flange
Revoving Centre
Electric Coolant Pump with Tank & Fittings
Taper Turning Attach ment
Quick Change Tool Post with 5 Tool Holders & Anti Vibration Pads
Technical Specifications

Model

N-305

N-380

Length of Bed

6'6"

8'6"

10'6"

8'

10'

12'

Centre Height

12'

12'

12'

15'

15'

15'

Bed Width

15'

15'

15'

18'

18'

18'

Spindle Bore

2.3/8'

2.3/8'

2.3/8'

3.1/8'

3.1/8'

3.1/8'

Admit between centres

34

58

82

44

66

90

Depth of Gap

6

6

6

7.1/2

7.1/2

7.1/2

Swing over saddle

13

13

13

20

20

20

Swing over Gap

35

35

35

44

44

44

Dia of Face Plate

16

16

16

27

27

27

Motor HP

2

3

3

3

3

5
Model

N-460

N-510

Length of Bed

8

10

12

16

20

8'

10'

12'

16

20

Centre Height

18

18

18

18

18

20

20

20

20

20

Bed Width

20

20

20

20

20

20

20

20

20

20

Spindle Bore

4.1/8'

4.1/8

4.1/8

4.1/8

4.1/8

4.1/8

4.1/8

4.1/8

4.1/8

4.1/8

Admit between centres

40

64

88

136

184

40

64

88

136

184

Depth of Gap

9.1/2

9.1/2

9.1/2

9.1/2

9.1/2

9.1/2

9.1/2

9.1/2

9.1/2

9.1/2

Swing over saddle

25

25

25

25

25

29

29

29

29

29

Swing over Gap

55

55

55

55

55

59

59

59

59

59

Dia of Face Plate

36

36

36

36

36

36

36

36

36

36

Motor HP

5

5

5

7.5

10

5

5

5

7.5

10