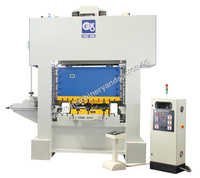 High Speed Precision Power Press
Product Description
Our customer-centric approach has enabled us to manufacture, supply and export High Speed Precision Power Press. These products are used in different industrial applications related to pressing and processing of varied kinds of metals. Our offered products are appreciated for their high performance and less delay. Known for their effective functioning, these products help in increasing the production. High Speed Precision Power Press is packed in special packaging material so as to avoid any damage at the time of transportation.
Other details:
SEW High Speed Precision Power Press - HSD Series
High performance, High production, Reliability, Economy & Safety insured
Welded steel construction with maximum rigidity&lowest deflection.
Fabricated steel slide running in extra-long guides to ensure perfect alignment.
Combination clutch and brake with inter-looking of functions and dual solenoid valve to ensure "Fail-Safe" operations.
Variable speed drive for wide range and quick selections of speed.
Motorized lubrication System,centrally controlled and monitored,so that in case of any fault in the system the machine stops immediately.
Well-Designed control station for easy operations.
stroke counter,slide adjustment indicator provided on machine.
Hydraulic overload safety (Optional). Flywheel & motor guards.
Bearing temperature sensor is an optional feature.
This prevents damage to major berings by stopping machine if bearing temperature exceeds preset values.
Standard Accessories :
Setting of Bolster Plate in accordance with drawing
Production Counter with electronic readout panel
Shut Height-Control Indicator with Digital Readout Panel
Press with hand control through Single Stroke Stop or Continuous Stroke Stop
Operating Control Panel of Roving Type
Rotary-gear Limit Switch with 8 Cam - Imported
Slide Adjustment Through Motor
Digital Crank Sensor
Machining Brake Pad for feeder bracket
Crankshaft extension for arranging feeder drive
Three Miss-Feed Sockets
PLC Electrical Circuit
Batch Counter & Preset Counter
Double Solenoid Valve
Oil Drip Pan & Grease Drip Pan
An array of hand tools (Special to Press)
4 - Pieces Hydraulically Prestressed Jack
Hydraulic Stick Release in order to resolve jam problem of tools quickly
Innovative Design of Plunger removes the change in Guide clearance and Connecting Rod
Plunger Clearance is ensured
Additional Accessories :
The automation of press
S-type Loop Controller with Trip Straightener and Double Coil Reel
Integration of Mechanical Gripper Feeder
Gear Charging Device
Gear Feeding Device
Quick Die Change System (QDCS)
Vibration-resistant Mounts
OPTIONAL ACCESSORIES

Press Automation
S-type Loop Control System with Double Coil Reel and Trip Straighefener
Mechanical Gripper Feed
Gear Charge
Gear Feed
Quick Die Change System
Anti Vibration Mouts

Technical Details:

Model

HSD-63

HSD-100

HSD-125

HSD-200

Capacity at 20" before BDC at













Max.Stroke Tonne

63

100

125

200

Stroke fixed

30

30

30

30

Speed Variable Min.

Max.

100

300

100

300

80

250

80

200

Shut height from table to slide face

with silde down,adjustment up

340

360

380

400

Slide Adjustment

40

40

40

50

Bolster Area LR

FB

850

630

1100

700

1300

800

1800

900

Slide Area LR

FB

790

450

1000

500

1200

600

1700

700

Table Opening LR

FB

710

200

900

200

1100

210

1535

350

Opening in Bolster




AS

REQUIRED




Opening in uprights FB

HT

300

300

350

350

400

400

450

450

Bolster Thickness

120

130

140

180

Height of table from floor

900

1000

1000

1000

Main Motor Power HP

10

20

25

30

Air Supply Bar

5.5

5.5

5.5

5.5