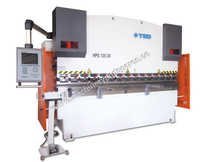 Hydraulic CNC Press Brake
Product Description
Owing to the considerable experience in this sector, we have been in this field of manufacturing, supplying and exporting
Hydraulic CNC Press Brake.
These products are used in different industries for the better functioning of varied machines. Our offered products have earned the praise of the clients owing to their high performance and delay free service. Owing to their non-corrosive surface, these products require very less maintenance.
Hydraulic CNC Press Brake
is packed in special packaging material in order to avoid any damage at the time of delivery.
Other details:

YSD CNC Press Brake - HPS, HPC Series
'YSD' HPC Series CNC Press Brake With Delam Da 65w Controller, 4 Axis [Y1, Y2, V, X] With Dac Set of & Hardened and Ground Punch with Multi Die
4 Axis Y1, Y2, X, R Controlled With Delem Da 52 Controller
Adjustable Crowning On Work Table
Hand Wheel & Micro Adjustment on Crowning Table.
Salient Features:
One Set LVD Classic Style Punch
Multi 'V' Die
2 Nos. Front Support Arms
Foot Peddle With Emergency Stopper /Fence Guard On Throat And Rear Side Of Machine
Slot In The Centre Of Working Table To Fixing Single Die
Cooling Fans Fitted In Electrical Cabinet
User Manual In English
STANDARD ACCESSORIES

Euro Style Semi Goose Neck Punch with Crowning On Punch Holder / Multi 'V' Die /) Quick Clamp On Punch/2 Nos
Front Support Arms
Foot Peddle With Emergency Stopper
Fence Guard on Throat and Rear Side of the Machine
T Slot in the Center of Working Table for Fixing Single 'V' Die
Cooling Fan Fitted In Electrical Cabinet
User Manual in English

OPTIONAL ACCESSORIES

OR 5 AXIS - Y1, Y2, V, X - R / 7 AXIS - Y1, Y2, V, X R, Z1, Z2 / 8 AXIS - Y1, Y2, V, X, R, Z1, Z2 , X /8 AXIS - Y1, Y2, V, X, R, Z1, Z2 , X /DA 66 We Controller In Lieu Of DA 65 W
Backguage position (X-axis)
Backguage vertical adjustment (R-axis)
Finger block transverse adjustment (Z-axis)
CNC crowning on the table (V-axis)
Each finger block X-way movement(x-axis) (up to pressing force 2500 KN)
DA 56 W Controller Inlieu of DA 52/DA 65 W Controller Inlieu of DA 52/5 Axis 'V' Axis Controlled [Crowning/Euro Style Punch with Quick Clamp Holders - 100 To 200 Tons
UP TO 3000 mmb) UP TO 4000 mm/AIR CONDITIONING FOR ELECTRICAL CABINET
LASER SAFE GUARDING
Technical Details:

Model

DA – 52 (standard)

DA – 56 W

DA – 66 T

Display

6.4'', Color LCD display, TFT

10.4'', Color LCD display, TFT

17'', High resolution, Color, TFT

Structure

Integrated

Integrated

Modular

Standard axis

3+1

4+1

Max. 15 axis

PLC

In-built

In-built

In-built

Connection

One USB port

Two USB ports

Two USB ports

Programming mode

Data programming

2D graphical programming & data edit

2D graphical
3D visualisation

Bend sequence

No automatic bend sequence determination

No automatic bend sequence determination

Automatic bend sequence calculation, collision detection

Operation system

Windows CE

Windows CE

Windows CE

Analyze software

Standard

Standard

Standard

Diagnostic

Standard

Standard

Standard