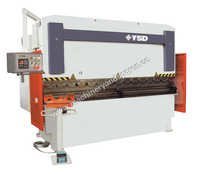 Hydraulic Press Brakes
Product Description
We are engaged in manufacturing, supplying and exporting premium Hydraulic Press Brakes. This product is fabricated under the supervision of knowledgeable professionals with the aid of modern equipment and cutting-edge technology. Our offered product is appropriate to be used in various industries for bending sheet and plate material which is commonly used in sheet metals. Our offered product is widely known amongst our variegated clients for their distinct features. With the aid of our wide distribution network we are able to deliver this Hydraulic Press Brakes even at the fringes of various countries. While transportation we pack this equipment using quality cartons to ensure safe transit.

Features:

Versatility
Shock proof
Low maintenance
High performance
YSD Press Brake with NC Option - PPT [K] Series
PPT Series Mechanical Lever System
A Simple, Efficient And Accurate Mechanical System By Means Of A Torsion Bar Ensures The Parallelism Between Beams Is Used For The Synchroism.
Specifications:
| | | | | | | | | | | | | | | | |
| --- | --- | --- | --- | --- | --- | --- | --- | --- | --- | --- | --- | --- | --- | --- | --- |
| Models | | 100/30 | 125/30 | 150/30 | 150/40 | 200/32 | 200/40 | 200/50 | 200/50 | 254/32 | 250/40 | 300/32 | 300/40 | 300/50 | 300/60 |
| Pressing force | Kw | 1000 | 1250 | 1500 | 1500 | 2000 | 2000 | 2000 | 2000 | 2500 | 2500 | 3000 | 3000 | 3000 | 3000 |
| Working length | Mm | 3000 | 3000 | 3000 | 4000 | 3200 | 4000 | 5000 | 6000 | 3200 | 4000 | 3200 | 4000 | 5000 | 6000 |
| Dist. Between housings | Mm | 2550 | 2550 | 2550 | 3150 | 2550 | 3150 | 4050 | 4990 | 2550 | 3150 | 2550 | 3150 | 4050 | 5050 |
| Stroke of the ram | Mm | 120 | 150 | 150 | 150 | 175 | 175 | 175 | 175 | 250 | 250 | 250 | 250 | 250 | 250 |
| Adjustment of ram | Mm | 100 | 120 | 120 | 120 | 145 | 145 | 145 | 145 | 180 | 180 | 180 | 180 | 180 | 180 |
| Dist. Between table | Mm | 310 | 350 | 350 | 350 | 425 | 425 | 425 | 425 | 500 | 500 | 500 | 500 | 500 | 500 |
| Depth of throat | Mm | 200 | 250 | 250 | 250 | 250 | 250 | 250 | 250 | 300 | 300 | 300 | 300 | 300 | 300 |
| Width | Mm | 180 | 180 | 180 | 180 | 180 | 180 | 180 | 180 | 250 | 250 | 250 | 250 | 250 | 250 |
| Approaching speed | Mm | 90 | 90 | 90 | 90 | 90 | 90 | 90 | 90 | 80 | 80 | 80 | 80 | 80 | 80 |
| Working speed | Mm/s | 8.5 | 8.5 | 8.5 | 8.5 | 7.5 | 7.5 | 7.5 | 7.5 | 6 | 6 | 6 | 6 | 6 | 6 |
| Returning speed | Mm/s | 50 | 64 | 64 | 64 | 70 | 70 | 70 | 70 | 60 | 60 | 60 | 60 | 60 | 60 |
| Motor power | Kw | 7.5 | 11 | 11 | 11 | 15 | 15 | 15 | 15 | 22 | 22 | 22 | 22 | 22 | 22 |
| Weight of machine | Kg | 7300 | 10800 | 11500 | 13000 | 14000 | 16000 | 17500 | 19000 | 16300 | 18500 | 17000 | 20660 | 22300 | 29000 |
| Back gauge distance | Mm | 600 | 600 | 600 | 600 | 600 | 600 | 600 | 600 | 600 | 600 | 600 | 600 | 600 | 600 |
| Volume of oil tank | L | 245 | 245 | 245 | 245 | 314 | 314 | 314 | 314 | 314 | 314 | 314 | 314 | 314 | 314 |
| Length of machine | Mm | 3200 | 3200 | 3200 | 4050 | 3250 | 4050 | 5060 | 6150 | 3250 | 4050 | 3250 | 4050 | 5050 | 6050 |
| Width of machine | Mm | 1250 | 1500 | 1500 | 1500 | 1540 | 1640 | 1700 | 1700 | 1900 | 1900 | 2000 | 2000 | 2000 | 2000 |
| Height of machine | Mm | 2000 | 2970 | 2970 | 2970 | 3320 | 3320 | 3320 | 3320 | 3810 | 3810 | 3810 | 3810 | 3830 | 3830 |
| | | | | | | | | | | | | | | | | | |
| --- | --- | --- | --- | --- | --- | --- | --- | --- | --- | --- | --- | --- | --- | --- | --- | --- | --- |
| Models | | 40/12.5 | 40/20 | 40/25 | 50/20 | 70/25 | 70/30 | 70/40 | 100/25 | 100/30 | 100/40 | 135/30 | 135/40 | 165/30 | 165/40 | 165/50 | 200/30 |
| Pressing force | Kw | 400 | 400 | 400 | 500 | 700 | 700 | 700 | 1000 | 1000 | 1000 | 1350 | 1350 | 1650 | 1650 | 1650 | 2000 |
| Working length | Mm | 1250 | 2000 | 2500 | 2000 | 2500 | 3000 | 4000 | 2500 | 3000 | 4000 | 3000 | 4000 | 3000 | 4000 | 6000 | 3000 |
| Dist. Between housings | Mm | 1050 | 1640 | 2050 | 1640 | 2050 | 2550 | 3150 | 2050 | 2550 | 3150 | 2550 | 3150 | 2550 | 3150 | 4050 | 2500 |
| Stroke of the ram | Mm | 100 | 100 | 100 | 100 | 100 | 100 | 100 | 130 | 130 | 130 | 130 | 130 | 150 | 150 | 150 | 150 |
| Adjustment of ram | Mm | 80 | 80 | 80 | 80 | 80 | 80 | 80 | 110 | 110 | 110 | 110 | 110 | 120 | 120 | 120 | 130 |
| Dist. Between table & ram | Mm | 300 | 300 | 300 | 300 | 300 | 300 | 300 | 310 | 310 | 310 | 310 | 310 | 350 | 350 | 350 | 400 |
| Depth of throat | Mm | 200 | 200 | 200 | 200 | 300 | 300 | 300 | 300 | 300 | 300 | 300 | 300 | 300 | 300 | 300 | 300 |
| Width of table | Mm | 140 | 140 | 140 | 140 | 140 | 140 | 140 | 180 | 180 | 180 | 180 | 180 | 180 | 180 | 180 | 180 |
| Approaching speed | Mm/s | 100 | 100 | 100 | 78 | 100 | 100 | 100 | 100 | 100 | 100 | 100 | 100 | 100 | 100 | 100 | 100 |
| Working speed | Mm/s | 10 | 10 | 10 | 7 | 7 | 7 | 7 | 8 | 8 | 8 | 8 | 8 | 8 | 8 | 8 | 7 |
| Returning speed | Mm/h | 90 | 90 | 90 | 80 | 88 | 88 | 88 | 60 | 60 | 60 | 60 | 60 | 68 | 68 | 68 | 75 |
| Motor power | Kw | 3 | 3 | 3 | 3 | 4 | 4 | 4 | 5.5 | 5.5 | 5.5 | 7.5 | 7.5 | 11 | 11 | 11 | 15 |
| Weight of machine | Kg | 2000 | 2500 | 3000 | 3200 | 4550 | 4850 | 6200 | 5820 | 6800 | 9400 | 7500 | 9260 | 8800 | 11320 | 16240 | 18000 |
| Back gauge distance | Mm | 400 | 400 | 400 | 400 | 600 | 600 | 600 | 600 | 600 | 600 | 600 | 600 | 600 | 600 | 600 | 600 |
| Volume of oil tank | L | 63 | 63 | 63 | 63 | 110 | 110 | 110 | 125 | 125 | 125 | 125 | 125 | 165 | 165 | 165 | 200 |
| Length of machine | Mm | 1555 | 2160 | 2660 | 2160 | 2660 | 3145 | 4050 | 2645 | 3145 | 4050 | 3145 | 4050 | 3145 | 4060 | 6050 | 3100 |
| Width of machine | Mm | 1060 | 1110 | 1110 | 1195 | 1275 | 1275 | 1275 | 1330 | 1330 | 1330 | 1435 | 1435 | 1550 | 1550 | 1550 | 1560 |
| Height of machine | Mm | 2149 | 1980 | 2110 | 2100 | 2110 | 2110 | 2430 | 2420 | 2420 | 2520 | 2420 | 2520 | 2560 | 2760 | 3035 | 2510 |