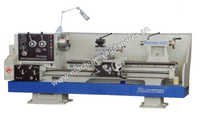 Light Duty Lathe Machine
Product Description
Since 1954, our firm is considered as one of the affluent manufacturers, exporters and suppliers of Light Duty Lathe Machine. This machinery is widely demanded in different industries and is used for thermal spraying, metal spinning, glass-working and parts reclamation. Under stern direction of our dexterous professionals, the offered machine is manufactured by utilizing the finest quality components and ultra-modern techniques. Moreover, clients can avail this Light Duty Lathe Machine in diverse models and technical specifications at rock bottom prices.

Features:

Longer service life

Negligible maintenance

User friendly interface
Impeccable performance
Panther Heavy Duty All Geared Lathe - 2050 & 3050 Series
"PANTHER" 3050 SERIES ALL GEARED PRECISION LATHE MACHINE CONFIRMING TO STANDARD OF GRADE - 1 ACCURACY
Specification :
Lathe Bed Is Of Close Grained Alloy Castings Duly Flame Hardened & Ground With Brinell Hardness Of Over 300 Bhn
Head Stock Gears Of Special Alloy Steel Duly Hardened And Profile Ground
Head Stock Spindle Is Of Hardened And Ground And Runs In Anti Friction Taper Roller Bearings
Quick Change Norton Type Gear Box Provides Wide Range Of Inch / Mm Threads & Feeds
Switch Shaft For Forward / Reverse Rotation Of Spindle
Accuracy Is Tested As Per Is : 1878 (Part I) 1971.
"Panther" Brand 2050 Series All Geared Precision Lathe Machine, Confirming To Standard Of Grade - 1 Accuracy
STANDARD ACCESSORIES

Hardened Guideways Electricals Consisting of Elec. Motor
'V' Belts
Control Panel
Catch Plate
Inch & Mm Gears
2mt Dead Centres with Centre Bush
Oil Can
Set of Allen Keys Spanners
Additional Accessories :

D1-4, Cam-lock Spindle instead of STD spindle
16 spindle speed spanning 30 rpm to 1250 rpm
16 spindle speed spanning from 50 to 2000 rpm with angular contact ball bearing
Actuating third shaft with control panel and instant foot brake
Electric Coolant Pump with proper fittings and sturdy tank
Rear tool post mounted on to the tool holder
D1-4 Cam-lock spindle instead of A2/4
The speed of spindle varies from 30 to 1250 rpm and 50 to 2000 rpm with high-efficiency bearings
OPTIONAL ACCESSORIES

Chuck /18"X4 Jaw Dog Chuck /10"X 3 Jaw Self Centering Chuck /12"X 3 Jaw Self Centering Chuck/Quick Change Tool Post With Five Tool Holder/Rear Splash Guard/Tool Post Grinder: (A)External & Internal Combined (W/O Electric Motor) (B) Only Internal (C)Only External (D) 1 Hp – 3 Phase Electricals/ Mt – 4 Revolving Centre /Control Panel With Foot Brake/Set Of Anti Vibration Mounts (A) 3050/1 TO 3050/4 (B) 3050/5 & 3050/7

Technical Details:
MODEL
2050 / 1
2050 / 2
2050 / 3
2050 / 4
2050 / 5
2050 / 6
Length of bed(MM)
1675
2130
2730
3030
3630
4230
Admit between centers(MM)
555
1015
1610
1910
2500
3100
Motor(HP)
3
3
3
3
3
3
Floor space L x W (MM)
2595 x 1200
3050 x 1200
3650 x 1200
3950 x 1200
4550 x 1200
5150 x 1200
Net weight(KG)
1250
1400
1600
1700
1900
2100
Gross Weight (KG)
1450
1600
1800
1900
2100
2350
Additional Specifications for All Above Models














Type of bed
2 Flat & 2 Vee
Height for Centres(MM)
254 / 305
Width of bed(MM)
325
Swing over bed(MM)
484 / 595
Swing over Cross Slide(MM)
290 / 395
Swing in gap(MM)
800 / 900
Length of gap in front of face plate(MM)
200
No. of spindle speed / range
8
Spindle speed range(rpm)
30 - 1235
Spindle bore (MM)
52
Spindle nose
A2 Size 6
Taper Bore in Center Sleeve(MT)
4
Tail stock spindle diameter (MM)
63
Feed Range (MM/Rev.)
40
Range of longitudinal speed per rev.(MM/Rev.)
0.064 to 1.98
Transverse feeds per revolution (MM/Rev.)
0.016 to 0.48
Threads no. range(inch)
40/2 to 60 TPI
Threads no. range(Metric)
20/0.5 to 15 mm