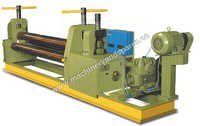 Plate Bending Machine
Product Description
With our vast industrial experience, we are able to manufacture, supply and export premium Plate Bending Machine. Our offered equipment is used extensively in steel & aluminum industries, cone making and large ship & marine building constructions. Our offered product is exquisitely fabricated at our unit with the aid of latest machines and advanced technology. In order to provide high quality to our equipment, we make use of premium raw materials which are obtained from the trusted sources of the market. This Plate Bending Machine is widely demanded by various industries for fabrication process.

Features:

Robust construction
Longer service life
Low maintenance
Easy operations
Other Details:
'Tee' Electro Mechanical Pyramid Type Plate Bending Machines Are The Most Popular Plate Bending Machines Working In India With Over A Thousand Machines In Use.

They Are Designed For Production Of Cylindrial Shells Used For Pipes, Storage Tanks, Chimneys, Pressure Vessels, Etc.

These Heavy Duty Plate Bending Machines Employ The Orthodox Three Roller Pyramid Principle. Bottom Rolls Are Fixed And Are Driven By A System Of Gears And Worm Reduction Gear Box Whereas The Top Roll Has A Vertical Up And Down Movement Through

(A) Screws Adjusted Manually In Model Tph.

(B) Separate Motor In Model Tpvp.

The Housings Are Steel Fabricated With Large Bearing Surface Area. The Rolls Are Of Wear Resistant Forged Steel And Are. Amply Dimensioned To Keep The Top Roll Horizontal When The Formrd Shell Is To Be Extracted By Retracting The Trunion. Horizontal Grooves Are Provided Throughout The Length, Of Rolls For Additional Gripping And Correct Feeding. Indicators Are Provided At Both Ends Correct Feeding. Indicators Are Provided At Both Ends For Correct Top Roll Pressure.

(For Model Tpvp) For Conical Bending The Top Roll Can Be Inclined Disengaging The Clutch At One End Of The Worm Gears.

STANDARD ACCESSORIES

Reduction Gear Box
Electric Motor3/440/50 AC
Reversible Switch (Upto 5 HP)
Reversible Starter (Above 5 HP)
OPTIONAL ACCESSORIES

Extended Rolls for Section Bending

Technical Specifications:
Capacity
MM
Dia. of top roll
MM
Dia of bottom roll
MM
Main motor
HP

1250 x 6

125

105

3

1250 x 10

150

125

5

1250 x 12

175

140

7.5

1250 x 16

190

150

7.5

1250 x 20

200

160

10

1250 x 25

240

200

15

1500 x 6

140

115

5

1500 x 10

160

135

7.5

1500 x 12

180

150

7.5

1500 x 20

215

170

12.5

1500 x 25

250

215

15

2000 x 6

160

135

5

2000 x 10

185

150

7.5

2000 x 12

205

160

10

2000 x 16

215

175

12.5

2000 x 20

230

190

15

2000 x 25

275

230

20

2500 x 6

175

150

7.5

2500 x 10

200

170

10

2500 x 12

230

180

15

2500 x 16

240

200

20

2500 x 20

260

215

20

2500 x 25

300

260

30

3000 x 6

200

170

10

3000 x 10

240

200

15

3000 x 12

260

220

20

3000 x 16

275

225

20

3000 x 20

290

250

25

3000 x 25

340

290

40