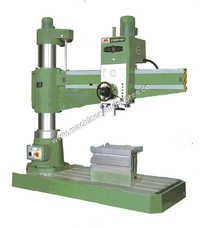 Radial Drilling Machine
Product Description
With our wide industrial experience, we are able to manufacture, supply and export premium Radial Drilling Machine. This equipment is extensively used in various industries like constructions, pop holing, boulder splitting, quarry work & leveling work. Our offered product is exquisitely fabricated under the supervision of skilled workforce using quality raw components which are procured from the reliable market sources. On the demands of our customer this Radial Drilling Machine is delivered at the specified place within the stipulated time frame. While delivering this product we adhere to strict norms and packaging instructions to provide safe and default free delivery.

Features:

Robust construction
Flawless finish
Smooth functioning
Easy operations

Specifications:

Proportioned Column For Rigidity Of Machine.
Rough & Smooth Feed Available By Manual And Power Feed.
Provision Of Window For Change Of Gear On Top Cover.
Quill Spacer Made Of Mild Steel.
Main Spindle Made Of En Steel With 6 Slots. 8 Speed In Either Direction.
Grounded Parts Finished On Important Grinding Machine.
Major Parts Casting Are Of Standard Grade.
Head Stock Is Bored On Imported Boring Machine.
Spindle Sleeve Is Properly Guided In Honed Drill Bore On 6 Ball & Roller Bearings For Smooth & Accurate Running.
OPTIONAL ACCESSORIES

2 Hp Main Motor
0.5 Hp Lifting Motor
Rev Switch
Belts,Box Table. Size 380 X 300 X 300
2 Hp Main Motor
0.5 Hp Lifting Motor Rev Switch, Belts, Box Table
Size 380 X 300 X 300
1 Hp Main Motor
0.5 Hp Lifting Motor, Rev/R/F Switch (2 Nos) & Vee Belts,Box Table
Size 510 X 380 X 355/Box Table
Drill Chuck 0 – ½" With Arbour
Drill Chuck 0 – ¾" With Arbour
Drill Sleeve
Drill Vice – 100 Mm
Drill Vice – 150 Mm
lec. Coolant Pump With Tank & Fittings
Machine Lamp
Technical Specification
Model

N-305

N-380

LENGTH OF BED

6''6''

8''6''

10''6''

8''

10''

12''

CENTRE HEIGHT

12''

12"

12''

15''

15''

15''

BED WIDTH

15"

15"

15''

18"

18"

18"

SPINDLE BORE

2.3/8"

2.3/8"

2.3/8"

3.1/8''

3.1/8''

3.1/8''

ADMIT BETWEEN CENTRES

34''

58"

82"

44''

66"

90''

DEPTH OF GAP

6"

6''

6''

7.1/2"

7.1/2"

7.1/2''

SWING OVER SADDLE

13''

13"

13''

20''

20''

20''

SWING OVER GAP

35"

35"

35"

44''

44''

44''

DIA OF FACE PLATE

16''

16"

16"

27''

27''

27''

MOTOR HP

2

3

3

3

3

5
Model

N-460

N-510

LENGTH OF BED

8''

10''

12''

16''

20''

8''

10''

12''

16''

20''

CENTRE HEIGHT

18"

18''

18"

18''

18"

20"

20"

20"

20''

20"

BED WIDTH

20"

20''

20"

20''

20"

20"

20"

20"

20"

20"

SPINDLE BORE

4.1/8"

4.1/8''

4.1/8''

4.1/8''

4.1/8"

4.1/8"

4.1/8''

4.1/8''

4.1/8''

4.1/8"

ADMIT BETWEEN CENTRES

40"

64''

88''

136"

184''

40"

64"

88"

136''

184''

DEPTH OF GAP

9.1/2"

9.1/2''

9.1/2"

9.1/2''

9.1/2"

9.1/2"

9.1/2''

9.1/2"

9.1/2"

9.1/2"

SWING OVER SADDLE

25"

25'

25"

25'

25"

29"

29"

29"

29"

29'

SWING OVER GAP

55"

55"

55'

55'

55"

59"

59''

59"

59"

59"

DIA OF FACE PLATE

36"

36"

36"

36"

36"

36"

36"

36"

36"

36"

MOTOR HP

5

5

5

7.5

10

5

5

5

7.5

10