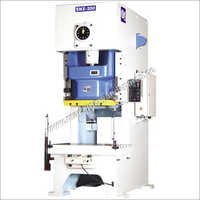 Shaft Power Press
Product Description
We are empowered by diligent team of personnel who strive to manufacture, supply and export Shaft Power Press. Made of supreme quality raw materials, these products have a robust and strong construction. Known for their high performance and accurate functioning, these products have gained a high demand among the clients. Shaft Power Press is packed in special packaging material in order to ensure its secure transportation at the clients' premises.
Other details:

SEW Cross Shaft, Single Point, Gap Frame ( C Frame) - SNX Series
Even more accurate, Even more dynamic - The Power Presses that raise standard's of precision & rigidity.
Single Point Suspension Non-Inclinable Single Action Press having Steel Plate Fabricated Construction Duly Stress Relieved with 6 Point Gibbing of Slide, Fitted with Pneumatically Operated Combined Single Disc. Friction Clutch & Brake.
Additional Features :
Reduced Noise & Vibrations
Minimal Frame Gapping, Low Angular Deflection < 1.5 minutes
High Rigidity Frame & Bolster
High Precision Forming for Longer Die Life
Hi-Torque Pneumatically Operated Single Disc Combined Clutch & Brake Unit
Gear Transmission Runs in Oil Bath
Wide Slide & Bolster Area
STANDARD ACCESSORIES

ISI Marked Electric Motor with Electrical Control Panel
Motorized Grease Pump
Hydraulic Overload Safety
8 Way Imported Rotary Cam Limit Switch
Dual Solenoid Valve
Die Height Indicator
Motorized Slide Adjustment (SNX 63 & above)
PLC Control System
Anti Repeat Safety Device
Pneumatic Balancers
Production Counter
2 nos Mis-feed Socket
OPTIONAL ACCESSORIES

Variable Speed with VFD Motor
Pneumatic Die Cushion
Photo Electric Safety Device
Foot Switch
Quick Die Change System
Technical Details:
MODEL
SNX-35
SNX-45
SNX-63
SNX-80
SNX-110
SNX-160
SNX-200
SNX-250
Capacity(TF)
110
160
200
250
300
300
300
300
Length of Stroke(MM)
180(S) /110(H)
200(S) /130(H)
230(S) /150(H)
250(S) /180(H)
280(S) /180(H)
300
300
300
Stroke per Minute (Fixed speed)
50(S) / 70(H)
40(S) / 60(H)
35(S) / 50(H)
30(S) / 45(H)
30(S) / 45(H)
300
300
300
Stroke per Minute (Variable speed)
35-65(S) / 45-90(H)
30-50(S) / 35-70(H)
25-45(S) / 30-60(H)
22-40(S) / 30-50(H)
20-35(S) / 30-50(H)
300
300
300
Tonnage Rating Point at B.D.C.(MM)
5
6
7
7
8
300
300
300
Die Height
400(S) / 350(H)
450(S) / 400(H)
500(S) / 450(H)
500(S) / 450(H)
550(S) / 450(H)
300
300
300
Adjustment of Slide(MM)
90
100
110
120
120
300
300
300
Area of Slide(MM)
1430 x 520
1560 x580
1850 x 650
2100 x 700
2100 x 940
300
300
300
Diameter of Shank Hole(MM)
ᴓ51
ᴓ51
ᴓ51
ᴓ51
ᴓ51
300
300
300
Area of Bolster(MM)
1880 x 680
2040 x 760
2420 x 840
2700 x 920
2700 x 940
300
300
300
Spindle Diameter(MM)
45
45
45
45
215
300
300
300
Thickness of Bolster(MM)
150
160
170
180
200
300
300
300
Height of Bolster(MM)
900
950
1000
1100
1100
300
300
300
Throat Depth(MM)
350
390
430
470
480
300
300
300
Main Motor(HP)
Fixed speed
Variable speed15HP

10HP X 4P
15HP X 4P

15HP X 4P
20HP X 4P

20HP X 4P
25HP X 4P

25HP X 4P
30HP X 4P

30 HP 4P
40HP X 4P
300
300
300
Foot Size(mm)
1960 x 1760
2170 x 2030
2520 x 2165
2810 x 2470
2840 x 2535
300
300
300
Floor Space Requiredm(mm)
2090 x 1760
2275 x 2030
2650 x 2165
2915 x 2470
2945 x 2535
300
300
300
Accuracy
JIS-B-6402
GRADE-1
JIS-B-6402
GRADE-1
JIS-B-6402
GRADE-1
JIS-B-6402
GRADE-1
JIS-B-6402
GRADE-1
300
300
300
Die Cushion (Optional)
Capacity(at 5 kgf/cm(TF)
6 x 2
8 x 2
10 x 2
14 x 2
14 x 2






Length of stroke(MM)
70
90
100
120
120
300
300
300
Area of Pads (R.L.XF.B.)(mm)
480 x 340 x 2
560 x 370 x 2
700 x 450 x 2
700 x 450 x 2
700 x 450 x 2
300
300
300